Tim's Electronic Photo Album!
Mich and Julli(41k)
Mish&Julles(38k)
Shar&Jen(29k)
Shar, Bob, And Jen(35k)
More Photos on PHOTO Page #3
RoadTrip '87 photos on PHOTO Page #4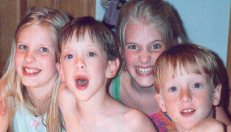 Bob & Sharlotte (160k!)
"Everyone outta 'da boat" (ALL the kids! 124k)
Breakfast at Uncle Alan's(114k)
Under continuous construction! CLICK on *most* thumbnail photos for full-size images. I just picked up a scanner; EasyPhoto ImageWave, $99 at CompUSA; cool tool, works grea! Over the next few weeks/months I will be dumping some photos in here as time permits. Bookmark this page and check back every now and then. Best way to view the larger images is to right-click and "open in new window". Easiest to do several of those at a time! I usually have six or eight browser windows open at a time; reading one while the others are loading. Please feel free to right-click and "save as wallpaper" any of these images for your own desktop wallpaper.
Please email questions or comments to tdriskell@net1plus.com

You are Visitor