Tim's Panama Page
While traveling for a few weeks along the southeast coast of Costa Rica, in the excellent villages of Cahuita and Puerto Viejo de Talamanca, our small group of about eight travelers decided to cross the border and visit the islands of Bocas de Toro. The decision turned out to be an excellent one, for the next week was one of the best of the four month roadtrip! We hired small dugout canoes and visited Parque National Bastimentos, one of the most unreal tropical paradises on earth! (soon I will post some pics from that week; only then can the scene be truly appreciated)
A week later we crossed the continental divide and dropped down to the Pacific Coast, and spent a few hours in David. After resupplying, five of us headed up into the mountain village of Boquete. One day we took a bus, then hiked a ways to a remore hotspring on a river. It was great, as the river water was quite swift and cold. After a long walk back to a small tienda, we waited forever for the bus that was not coming. We had missed the last bus. Luckily, just at dusk, we talked a local guy into giving us a ride the 40 minutes back into town. We were a bit worried until we lucked out meeting him!
The Canadian couple was soon headed for Panama City, then South America. Myself and the two German guys hung out in the coffee plantations, rode horseback on some beautiful trails, and enjoyed the countryside immensely. It was a nice escape from the tropical heat of the lowlands.
A couple days later I hopped on a bus and headed north to Costa Rica, and a week-long backpack adventure in the wild and beautiful tropical rainforest on the Osa Peninsula; Corcovado National Park!
I thought long and hard about attempting to travel south to Columbia through the Darien Gap, but decided it was just too dangerous!
Panama was nice, especially the northeast Islands and Bastimantos!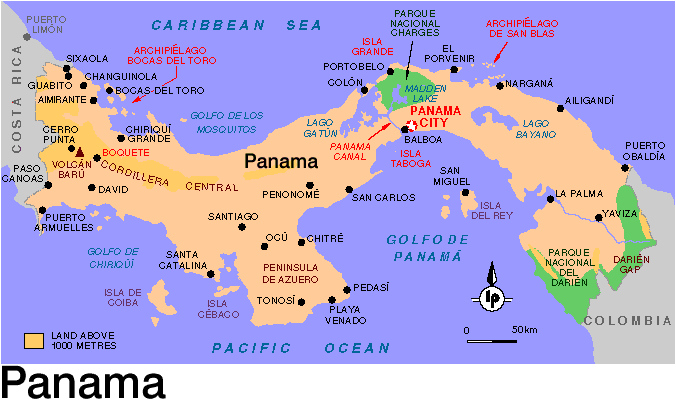 Lonely Planet; DESTINATION PANAMA



My other pages:

Page created and updated by Tim Driskell; January 1999 (page me here; ICQ# 20756120)